April 23, 2008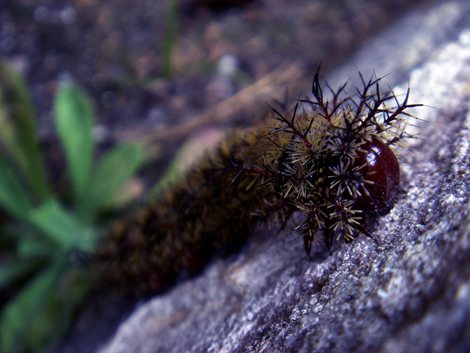 Buck Moth Caterpillar, Uptown
- Thom

March 18, 2008
St. Patricks Day Float, St. Charles Avenue
- Thom

February 29, 2008
We decided on a whim to go to Pensacola for the weekend. Left the computers at home, turned off the cell phone and disconnected completely from the cortex for two days. Drank a lot, ate a lot of fried fish, got a nice burn, so relaxed.
- Thom

December 7, 2007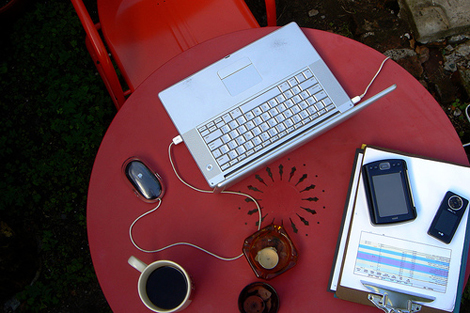 After living in New York my whole life, I assumed that I would miss snow terribly. I'm now in my first full winter in New Orleans. Today I'm sitting outside, in shorts and a short sleeved shirt, working quite comfortably in the fresh air and sunshine well into the first week of December. I have to be honest, I don't really miss snow that much.
- Thom

September 28, 2007
Five Alarm Fire, 1600 Block of Robert Street
- Thom

August 16, 2007
Lately, Roller Derby has become a hot thing in many cities across the country. You, dear Brooklyn, have your verson, and New Orleans has its own. In fact, the Big Easy Roller Girls (BERG) are a Big hit down here. Given that Roller Derby has become a combination of burlesque meets the X games, what city is better suited than the birthplace of burlesque? We were able to get a preview of the BERG action last Saturday night on Royal St., and it sure did look like a lot of fun. They're looking for Refs for their upcoming season, and if I could do anything besides fall on my ass while skating I would so sign up.

- Jessica

August 1, 2007
Dear Brooklyn,
I love learning about other transplants who love New Orleans like I do. I've known a bit about the poet Andrei Codrescu for some time, but I took a while and read up on him today. His commentaries for NPR are pretty great. I really liked this one.
I know for a fact, however, that this "Dog" character he speaks of is not the oldest cabbie in New Orleans. My brother, Jon, and I rode with the oldest cabbie in New Orleans this past Christmas. He drove so slow it took us a half an hour to get from my apartment Uptown to the French Quarter without any traffic. You could see the cataracts in this man's eyes, and you could almost feel his joints ache with every wide turn of the wheel. But he was a very nice man, and wished us a Merry Christmas. When I asked if he was just beginning his shift or getting off soon he replied, "Sweetie, I'm 86 years old. I started work this morning around 8:30, it's 10:30 now, and it's time for me to head home and take a nap."
- Jessica

July 30, 2007
There are few things as beautiful as your bridges and brownstones draped in a duvee (how's that for alliteration) of crisp white snow. And the snowmen and snowballs your streets are privy to (for the hour or so before it melts into the inevitable brown city slush), are truly the stuff of a winter wonderlands. But while you, dear Brooklyn, may garner enough snow for a snowball fight only whilst in the throws of winter, here in New Orleans it's the summer heat that brings the snow fall. Here, the snow comes in the form of "Sno-balls:" shaved ice available in every flavor imaginable. And they are much more than glorified snow cones; they are a New Orleans classic.
In 1934, inspired by the popularity of Italian ice carts in the French Quarter, Ernest Hansen of New Orleans patented the first ever known "ice block shaver." His wife Mary created many flavors of fresh syrups to flavor his finely shaved "snow," and "Sno-balls" have been popular in New Orleans ever since.
There are several differences between a New Orleans "Sno-Ball" and a "Snow Cone." While a Snow Cone consists of hard, crunchy, ice, the Sno-Ball is made of a very fine powdered ice with a consistency very close to actual snow. This difference is in part due to Hansen's "Sno-Bliz" machine which actually shaves a block of ice (almost like a deli slicer). Most Snow Cones are made up of crushed, not shaved ice. Snow cones also usually come with a limited amount of syrup, and in a limited number of flavors. On the other hand, most Sno-ball stands offer between 40-70 flavors, and the Sno-balls are then drowned in the flavor of your chosing; in fact, so much syrup is used for Sno-balls, that each one is served with both a spoon and a straw.
Eric and Mary Hansen worked at their sno-ball stand, Hansen's Sno-Bliz, in Uptown New Orleans (just five blocks from T & me!), until Mrs. Hansen's death at age 95 in September 2005, shortly after Hurricane Katrina. Mr. Hansen died just a few months later, in March 2006 at 94. Luckily, their granddaughter, Ashley Hansen, was able to reopen the stand last summer, and the long lines leading out onto Tchoupitoulas St. are forming once again; Another sign of recovery, and a welcome relief from the summer heat.
Sno-balls may be very different from a snow covered Brooklyn Bridge in the early morning light, but at the end of a 90 degree day with 90% humidity, a pineapple flavored Sno-ball is almost just as beautiful.
- Jessica

July 10, 2007
I must tell you about Second Saturdays. One of my favorite streets in the French Quarter is Royal Street, Rue Royale, or Calle Real (depending on which era the street sign you are reading harkens from). On Royal Street you can find boutique and antique shops, world class hotels and restaurants, and so much New Orleans charm, it is hard to believe that it is just one block riverside from the tourist trap of Bourbon Street.
Royal Street is also home to upscale art galleries, which, on the second Saturday of every month, open their doors to the general public, offering free drinks and food, and a chance to meet the artists. No offense, dear Brooklyn, but the few "galleries" of yours that I was privileged enough to attend, were cold, rather uninviting places where I always felt underdressed and under-cultured. On Second Saturdays the artists are eager to tell you about their work, ask your opinion, and better yet, just ask about you. Like New Orleans' music, its art and artists are often distinctly Nola, and I've never had so much fun witnessing and discussing art, as I have on Second Saturdays.. Of course, the free drinks don't hurt either.
- Jessica

July 3, 2007
A few months back, T and I took a drive up to Baton Rouge. It was a gorgeous spring day, and it took less than two hours to get up there. Being that BR is a college town, and the capital of Louisiana, I expected we'd find some great restaurants, some cute bars, maybe even a quaint bookshop. What we found instead was an imposing capitol building, and not much else.
The capitol building, however, was impressive. It was the dream of Huey Pierce Long, Jr. or Huey P. as he is better known round these parts (We have a rickety old bridge named after him), and was ironically, the site of his assassination three years after the building was completed. He is buried on the grounds and his statue faces the Capitol.
The Louisiana State Capitol is the tallest capitol in the United States – with 34 floors it stands 450 feet high. During our spring visit we climbed the 50 foot high main entrance, peered in through the locked front doors (it was a Saturday after all), and T took lots of pictures. We then drove around in circles for a while before finally finding a chintzy chain restaurant to grab a bite to eat. An hour later we hopped back into the car, full up on mediocre Italian, and happily drove home to New Orleans; Baton Rouge's "eccentric" relative (as she's been called).
May we always live in eccentricity.
- Jessica

July 2, 2007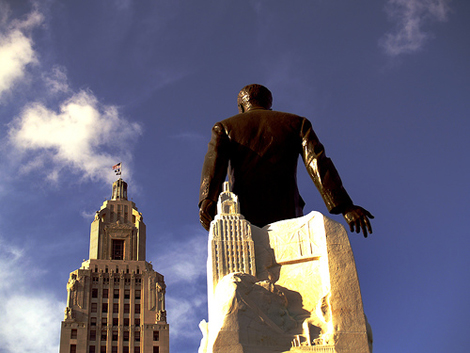 Louisiana State Capital, Baton Rouge
- Thom

June 26, 2007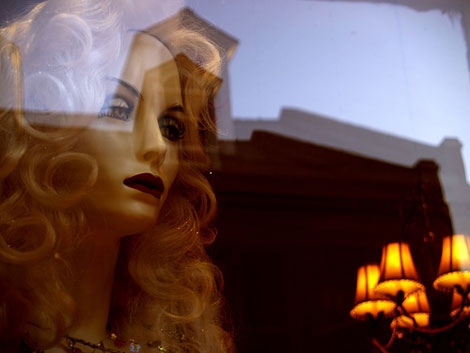 Fifi Mahony's, Royal Street
- Thom

June 25, 2007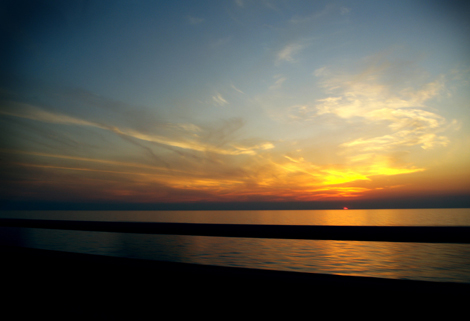 Lake Pontchartrain Causeway, Southbound
- Thom

June 24, 2007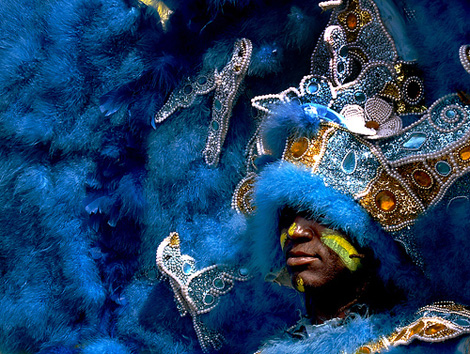 Mardi Gras Indian, Mid-City Bayou
- Thom

June 24, 2007
I had so many plans today. I was going to clean the house (still might), I was going to do yoga (guess I still could), and I was going to take Norris to the park (have to wait till it gets cooler). I was also going to write to you.
I spent much of the morning looking at houses for sale and for rent across the city. The houses are still just above what we can afford with mortgage and insurance payments, and the rents are still working themselves out in this post-K economy. I have to admit, I'm getting pretty close to giving up on moving anywhere else anytime soon, but I can't imagine both Thom and I having to do work at home, once I start school, in this tiny space. Plus, you know I need a garden again dear Brooklyn.
Today is the first in some time that I have been left alone to my own devices. (Apparently my devices include eating potato chips and watching 5 National Geographic Specials in succession.) I don't know if it is because I am alone, or because I'm slightly hung over, or because I was harassed when I took Norris for a walk earlier, but I'm feeling more homesick than has been usual for me. In fact, to be perfectly honest with you, I've hardly been homesick at all in the last seven months. As I keep telling everyone we meet here, we are still in love with this city. Despite the crime, despite the destruction, despite the corrupt politicians, the magic has, in no way, worn off for us. I'm still awed by the sunsets, moved by peoples' strength, and I still love the taste of the air just before a downfall.
We are gearing up for hurricane season though. All the experts are predicting a busy season, even busier than that of 2005. I have some apprehension about it, but not too much. I think T is actually enjoying getting together our "To-Go" box, which is a special waterproof chest he researched and then purchased, despite my argument that if we are taking it with us, it should not need to be waterproof. Like I said, he's enjoying himself.
I have so many stories to tell you Brooklyn, and I'm going to try to begin keeping you in the loop. There have been several writers who took the time to document their stay in New Orleans, and while my stories will certainly not be nearly as eloquent, or well researched, they will be my own stories of my new love, my New Orleans.
- Jessica